Mobile Apps for Business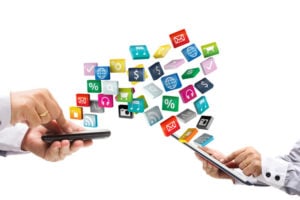 Mobile applications are for more than playing games, or looking for love. Whether you have a small to medium sized business, or a large chain, developing a mobile app can do wonders for your mobile marketing game. Developing an app for your business is an excellent way to increase your revenue, while successfully outreaching to a wider range of customers.  Considering nearly everyone has a smartphone, mobile apps are a great way to reach your consumers immediately and conveniently. This increase of mobile users calls for an increase in mobile marketing. It's not enough to run a mobile-friendly website anymore. There is a greater need for mobile apps, as more consumers love the accessibility they offer.
Here are the top 3 reasons you need to have an app for your business:
Direct Marketing Link To Customers
One great thing about smartphones are the benefit push notifications bring to the table. They allow an immediate line to your customers, and gives them a reminder of your products or services.  As long as you limit your push notifications to 1-2 times a week (to prevent annoying your customers), they are a great tool to utilize. Another way mobile apps are effective is that they provide a convenient way to learn about your company's general information, book appointments, create user accounts, check pricing, and loads more!
Further Establish Your Brand
Your app needs to be marketed an extension of who you are as a business. The content needs to be creative, and displayed in a way that features what your customers will find interesting, while establishing your mobile brand. If you're about adding a unique touch to your industry, show off those skills in your app design. Having the right content will keep your customers engaged, and have an understanding of how your business runs. Giving your customers a reason to visit your app will also give them a reason to become more involved with what your business offers.
Beat Your Competitors To The Punch
Mobile apps are still relatively new to the mobile marketing industry. A fair number of larger businesses do not have apps, but if you are a small operation, or a niche market, developing an app is another way to stand out. Customers are just as likely to type in an industry sector in an App Store as they would a search engine. If you are the only (or one of the only) businesses showing up with an app, you are more likely to get a download. Having an app that is convenient for your customers to access, with useful content, will give you loyal customers, greater increasing your impact with them.
Whether you have the team to build an app, you hire a third party, or you use software to build one, developing a mobile app for your company will soon be as important as building a website. Creating one sooner will expand your client base, and give your business the tools it needs to remain successful.
For more information about Above the Fold, and how we can help your business grow, head over to our Services page. We're also active on Twitter and Facebook, with unique content regularly shared on these channels. To reach out to us, fill out the contact form found on our website, or use one of the previously mentioned social channels.